If you are interested in getting our catalogue please send us your request via contact form.
+420 777 816 220
lucie.soukupova@chateau.cz
Villa description
Porkert villa (after reconstruction in 2007 also called Villa Bělá) was built between 1931 and 1932 in romantic Moorish style according to the plans of architect Ota Ployer. The owner of the villa was Vilém Pokert junior who lived here with his family until 1949.
The surrounding of the villa is as impressive as the building itself. It is situated on a flat space beneath a woody rock with the small rive Bělá running through. The overwhole romantic character of the seat is empowered not only by its positioning in the landscape but also by the grown decorative woody plants that surround it. The villa itself is constructed on a ferroconcrete bath with cellars bellow the level of the little river. The outside of the building is dominated by the turrets and windows in Moorish style and a majestic entrance staircase that connects the garden and the verandah with the elevated ground floor.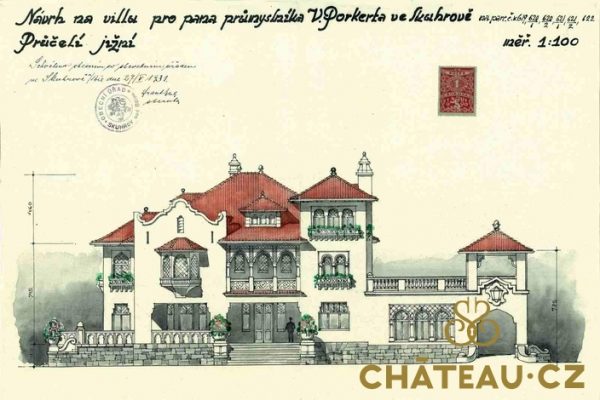 From the central hall you can get into the dining room, the library and the living room on the ground floor. You can walk up the two-arm staircase to the first floor and the loft where rooms and bedrooms and a billiard room are to be found. All rooms were designed by the builder as very representative.
The total area of the property is 1,2 hectares. The building is not on the National Heritage list.
Villa dispositions
The architecture of the villa is very segmented, which underlines its romantic character.
It is a two-storey building with a cellar, the ground floor , the first floor and the attic.
Complete area of the property: 11 507 square metres
Built area: 887 square metres
Useful area:
Cellar – 58 square metres
Ground floor – 213 square metres
First floor – 213 square metres
Attic – 303 square metres.
In total: 787 square metres
If you are interested in getting our catalogue please send us your request via contact form.
+420 777 816 220
lucie.soukupova@chateau.cz
[Not a valid template]