If you are interested in getting our catalogue please send us your request via contact form.
+420 777 816 220
lucie.soukupova@chateau.cz
Chateau description
Originally a cloister village which was rebuilt into a farmyard in 1703. Cistercian order was in charge of the reconstruction and further building, especially Eugen Tyttl. eChâteau farmstead Býkov is thus one of few well-preserved large farmsteads built rustic baroque style. It is an extensive farmyard of rectangular shape which consists of a château building and a few further interconnected buildings of the complete built area of 4,188 square metres. An important part of the compound is also the picturesque courtyard with a barn in the centre.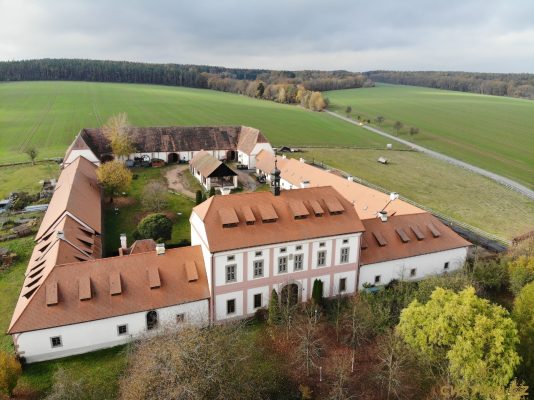 The last historically very sensitive reconstruction took place between 1997 and 2000. The château underwent a significant renovation and modernization, a hotel was founded here including a large restaurant, stables which provide an opportunity for a horse ride around the property. In the château there is also wellness, a bike rent and a museum of historical agricultural and fire-fighting machines.
A blacksmith´s workroom from 1753 is also interesting It includes original operating equipment. Apart from this the château also includes a "Black kitchen" in which bread used to be baked and the reconstructed châťeau chaple of St John of Nepomuk with a ceremony hall The château farmstead is located in the middle of extensive fields, surrounded with an oak forest close to the village Hromnice in Plzeň-north district.
The château yard is the property of the company Metternich Freizeitzenter-MFC, l.l.c and 100 per cent share in this company is for sale.
Château dispositions and location
Baroque château farmstead Býkov is an extensive farming yard of a rectangular shape. The incoming way lined with a tree alley brings the guests to the main château building at the eastern part of the compound. The château is a one-storey building, at the courtyard side it has five-vaulted arcades on the groundfloor and on the half-vaulted roof it has a dominant feature of a small steeple with a bell. On both sides of the courtyard entry there are groundfloor living wings adjacent to the château. On the northern side there is a larger building in which there is a two-storey working restaurant of the area of 220 square metres with 220 places to sit, further wellness with equipment and a gym. This building is followed by a smaller barn with a bakery. On the southern side of the compound there is a museum and stables. A barn is attached to them in which there is a hotel with 35 rooms which dispose of 75 beds. A chaple and a ceremony hall are also parts of the compound. The western side, opposite the château is constituted by a large barn which is used for organizing weddings and company events with the capacity of 1000 people and another smaller barn in which some agricultural machines and equipment are stored. The buildings close an extensive courtyard with a barn in its centre. At the northern side there is a large parking lot for all the compound. The built area of all buildings is 4,188 square metres. Complete area of the property to offer is 239,368 square metres.
The château courtyard is a protected National heritage monument. It is situated in the middle of fields which are surrounded by oak woods, in complete privacy, approximately 1,5 kilometres from the village Hromnice in Plzeň-north district. The nearest bigger town is Plzeň which is 9 kilometres north of the courtyard and roughly 30 minutes by car from Plzeň airport. The distance from Prague is approximately 95 kilometres.
Disposition:
Château building: 707 m2
Restaurant building: 767 m2
Bakery building: 191 m2
Building with machinery equipment: 704 m2
Large barn building: 424 m2
The building of stables: 867 m2
Hotel building: 288 m2
Barn building: 240 m2
Total: 4188 m2
Area of the courtyard: 4 597 m2
The château compound is thanks to its size suitable for conversion into an extensive modern hotel. It is possible to preserve the stables within the compound and build a riding hall. The château farmstead is surrounded with a large piece of land on which a golf course could be established that could thanks to its location attract both Czech and German tourists. Its surroundings are interwoven with a number of touristic and cycling tracks which can also tempt the visitors.
Another possibility is the construction of senior/Alzheimer centre.
If you are interested in getting our catalogue please send us your request via contact form.
+420 777 816 220
lucie.soukupova@chateau.cz